MailController anti-spam is a high performance managed service that intelligently identifies spam and blocks its delivery

The threats to an organisation's communications infrastructure are ever growing: whilst the continuity of email is vital, viruses can cripple systems for days; spam email forces the ineffective use of staff time and the distribution of illegal or inappropriate content poses legal and commercial risks.

The solution
MailController is a fully managed email-filtering solution providing the highest level of comprehensive protection against spam and viruses. With MailController sitting outside your network, all spam and viruses are screened out at the Internet level and not downloaded to your network, ensuring your infrastructure is free from disruption and congestion.

The service requires no hardware or software expenditure, puts an end to in-house administrative costs and provides you with up-to-the-minute virus protection. The online customer management portal gives you the ability to set up, manage and control your mail in terms of configuring your spam policy, white list, black lists, delivery reports and quarantined email.
MailController ultimately saves you an investment in time and money but also ensures your email - and your business – is never interrupted.
How does MailController anti-spam work?

Spam filtering presents a number of complex challenges due to the dynamic nature of junk email. An effective spam filter must block the maximum unwanted email, with minimal 'false positives' (valid email, wrongly identified as spam). MailController anti-spam solves these problems by using an 'Adaptive Spam Filtering' engine which effectively learns what an organisation considers to be spam and adapts its filters accordingly.
This adaptive approach combined with the ability to set thresholds on a domain and per-user basis, ensure that MailController antispam is the most effective spam filtering technology on the market today.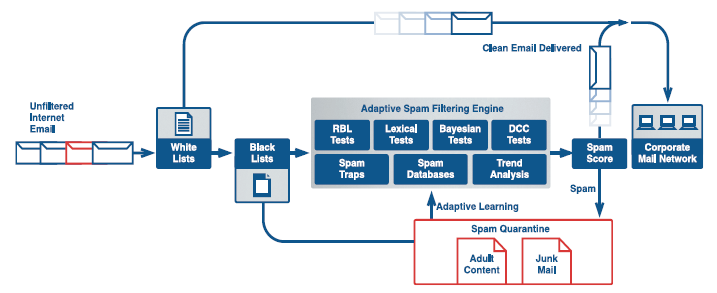 The whole scanning process takes less than one second. Once each message has been analysed by the different tests, the message receives an overall 'spam score'. The score is then compared against the spam threshold defined by the customer; mail scoring below the configured threshold is delivered as normal, whilst mail scoring above is quarantined as spam.

Management features
• Online customer portal
• Management dashboard
• Online management of quarantined email
• Online policy management
• Online message tracking
• View all message logs and delivery reports